Valentines Day or not, these romantic views in Yosemite National Park are sure to dazzle any date.
There's nothing more romantic than a breathtaking view, and Yosemite National Park has plenty of those. If you're visiting Yosemite with a partner on Valentines Day—or anytime time you're feeling romantic—we have a few date recommendations to check out that are sure to please. Here are our picks for the most romantic views in Yosemite. Thank us later, lovebirds.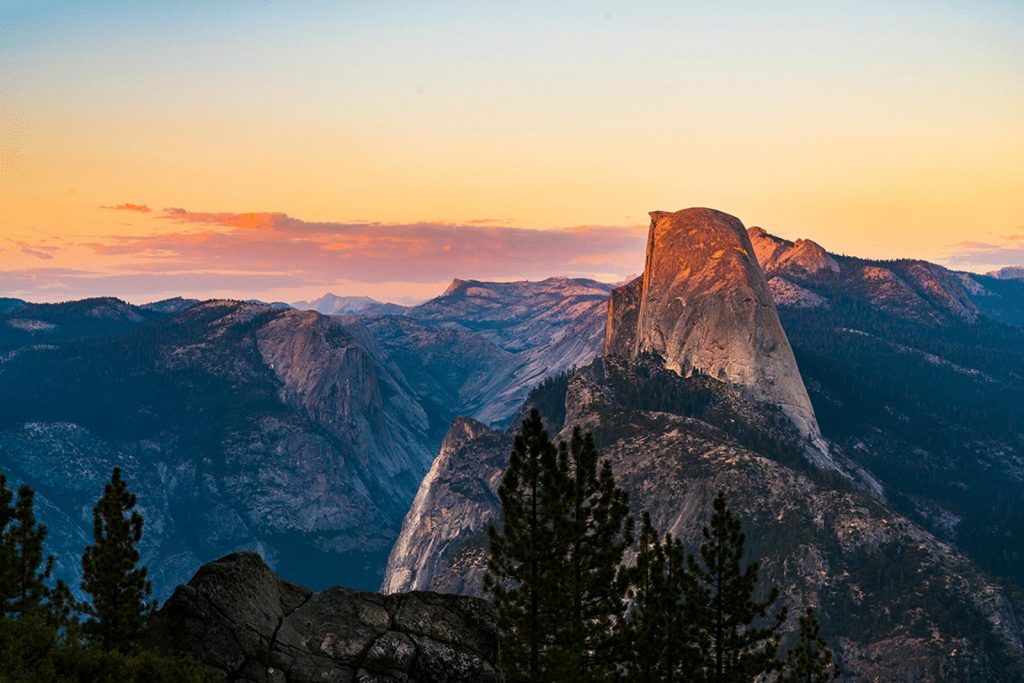 Standing more than half a vertical mile above Curry Village, Glacier Point hosts a breathtaking, iconic view. A short, paved pathway from the parking lot to the point makes for an easy stroll that's approachable day or night. Visitors can stand at cliff's edge and gaze from the panorama vista, a sight that plummets 3,200 dizzying feet straight down to the valley below, and sprawls through Yosemite Valley to the west, Tenaya Canyon to the north, and the Merced River Canyon to the east. From here, a single vantage yields unobstructed views of famous landmarks like El Capitan, Yosemite Falls, Half Dome, Clouds Rest, Liberty Cap, Vernal Fall and Nevada Fall, in one turn of the head.
There are a few different date experience options for Glacier Point, depending on the time of year and day. For the most romantic experience, we generally recommend visiting at sunset, and staying until after dark. The sunset speaks for itself, and the stargazing there is unmatched. For a more active date, join us for a Glacier Point hike down the Panorama and Mist Trail. And for the ultra-adventuresome couple that's ready to commit to a challenge, consider a wintertime (or Valentines Day) visit. With Glacier Point Road closed, the view is only reachable via a strenuous snowshoe trek, or by a 10.5-mile cross-country ski along the closed road. Once you get there, stay a night in the Glacier Point ski hut, you've earned it (note: Glacier Point Ski hut is closed for 2020-2021).
If you've ever seen a wedding picture taken in Yosemite, you've probably seen the viewpoint at the Wawona Tunnel on Highway 41. It features El Cap, Bridalveil Fall, the Cathedrals, and a sweeping view of the valley, backdropped with Half Dome to the northeast. What you also may have seen are the hoards of tourists that flock to the viewpoint, making it a bit less romantic. Luckily for you lovebirds, there's an even better view just a 2.3-mile hike above Tunnel View, offering a bookended view of the valley between El Cap and Half Dome.
Adding to the romance of the vista, Inspiration Point's history has roots in the coming to be of Yosemite. It's the sight where westerners first laid eyes on Yosemite Valley back in 1851, when an army of settlers in pursuit of valley natives first discovered it. Among the men was a writer named Lafayette Bunnell, who wrote of the valley in a book titled, Discovery of Yosemite.The account helped lead to the popularization and eventual protection of what became known as Yosemite National Park.
To get there, take Highway 41 out of the valley toward the southern entrance of the park, and park the car in the lot adjacent to Wawona Tunnel. The trailhead stems uphill from the parking lot. The first mile is pretty darn steep, but the trail mellows out as you go and once you get there, the view will be worth it. The first vista you encounter at the overlook will be obstructed by tress, but explore a bit and find the granite slab with an unobstructed view. See also: best cuddling spot ever.
Dewey Point sits at the end of a moderate 7.8-mile hike on the Valley's southern rim, hosting an outstanding view of Yosemite's southern expanse. Looking outward, El Capitan is the centerpiece along with the Cathedral spires and the Three Brothers, some of the valley's mightiest monoliths. The sheer cliff beneath Dewey point disappears underfoot, suspending onlookers seemingly in thin air. So if you're looking to take their breath away, Dewey Point will do the trick.
The 7.8-mile loop presents a good workout, without any gruelingly steep sections like Inspiration Point, and a view on par with Tunnel View, albeit much less crowded. Go half a mile past Dewey for an unobstructed view of Bridalveil Fall from Crocker Point, then .7 miles more to Stanford Point and you'll enhance the likelihood of having the view to yourself. It's been said that these are prime destinations for a lovers' kiss.
Dewey Point is another destination that makes for a romantic snowshoe or ski outing. To get there this way, you'll  turn up Glacier Point Road and park at Badger Pass. Facilities are closed for rentals this year, but they've plowed up to the parking lot there. From there, ski or snowshoe for about a mile from the parking lot until you see a sign for the Dewey Point Meadow Trail. Or better yet, join us for a guided snowshoe adventure! For more information on skiing to Dewey Point, check out this article from Adventure Sports Journal.
For an even more romantic visit in Yosemite, put the kids in camp, and take a backpacking trip with your spouse! 
MORE
The Ultimate Valentines Day Date: Our Guided Dewey Point Snowshoe Adventure
How To Backpack With Young Kids 
Another Romantic Destination: Olympic National Park